welcome to my site
The articles below contain information on my current projects whilst the galleries in the menu bar contain examples of my work across three broad categories: paintings, illustrations and murals. Look out for little arrows next to the thumbnail images at the bottom of each gallery page - an arrow indicates that you can see more thumbnails by clicking on it. If you see a piece of work that you like please do not hesitate to contact me as I am happy to provide affordable, card mounted prints of my images, which I can post out to you wherever you are in the world. I hope that you enjoy browsing the images on display.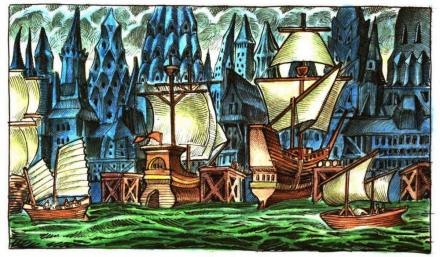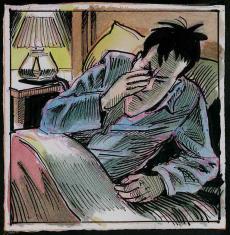 the dream quest of randolph carter
Three times Randolph Carter dreams of a magnificent sunset city, but his perfect dreams are not what they seem to be. As Carter sets out on a quest within a dream world to find his ideal city at all costs, he is drawn inexorably closer towards a terrible secret. Based on H.P. Lovecraft's novella "The Dream Quest of Unknown Kadath" the first quarter of the graphic novel first appeared on the Illustrated Ape website and is now published in its entirety by Sloth Comics - available to buy online and in selected book and comic shops.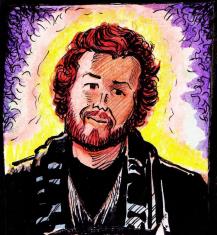 the doings of vincent john mckeown, poet
Crossroads Care's website features the ongoing fantastical graphic biography of the Oxford poet Vincent John McKeown who died in 2009. It is written by Christian David and illustrated by myself, and will deal with his early life, his poetry and how he came to terms with multiple sclerosis. The Vincent John McKeown Memorial Fund has been created by Crossroads Care to enable carers and their disabled relatives or friends to enjoy the arts. We hope that our graphic novel will help generate interest in the fund as well as being a fitting tribute to Vincent's life and work. To read the novel click on the following link
www.vincentfund.org.uk/comic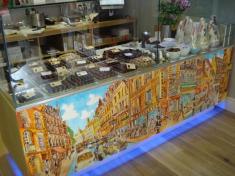 murals for the home and workplace
I have produced high quality murals for the home and businesses both in England and abroad. I sell murals painted in acrylics or oils on mdf board designed to the specifications of the client. Generally I paint the mural in my studio and then deliver it to the client by an agreed deadline although I can also come into a property and paint directly onto the wall should the client so wish. Previous commissions can be viewed here in the the murals gallery
oxford artist and illustrator, charles cutting has been working as a professional painter in watercolours and oils producing landscapes, prints, murals, portraits, and design for print for over ten years. contact him now for more information.
all imagery is copyright charles cutting and may not be reproduced without permission. artworks have been registered with copyright house